BOP Control Systems
Overview
BOP control is one of the most crucial safety systems on a platform, and one-half of all BOP system failures are control system related, therefore the system must reliably operate regardless of age, external conditions, or failures. Monitor System's BOP Control Systems provides clients with a highly reliable interface to well control, comprising customized solutions to meet the client's area and regional requirements.
System Designs
Monitor Systems design, build, install and commission conventional and PLC based BOP control panels to API16D and regional specific standards as required.
Systems can be provided to replace existing BOP control systems or for new installations using existing instrumentation and controls or supplying new.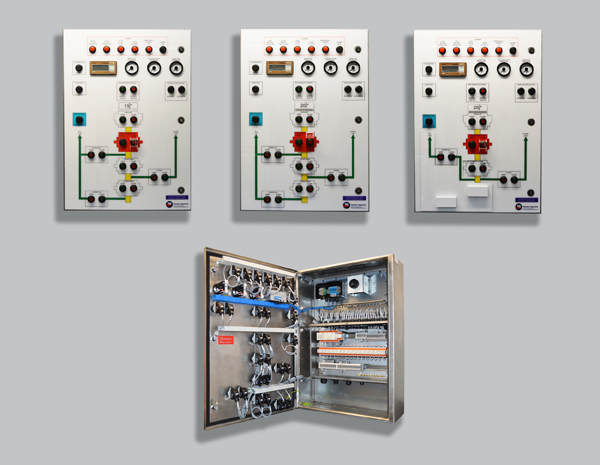 Conventional Systems
Monitor System's conventional panel designs consist of pushbutton panels with LED indicators, analogue gauges and digital indicators laid out as per the physical stack layout to give the operator an easy overview of Ram positions, total flow, alarms and pressures. Conventional panels are often useful upgrades where enough existing multicores are already in place to connect the system, where the existing panels no longer meet zoning requirements or require updating due to reconfiguration of the stack.
Monitor systems also provide variable conventional panels which can be changed on-site to suit variable stack function. Panels can be provided for safe and hazardous areas as required, designed and built in compliance with API 16D.
PLC Based Systems
PLC-based systems are controlled by redundant or fail-safe PLCs dependant on regional requirements (ie NORSOK) to give a robust system. Using Intrinsically safe IO minimizes space required for barriers in bulky Ex d enclosures, reducing different components required for the system, and high function IO allows monitoring of connected components for faults before they are required during operation. Systems are typically networked in a ring topology to add to system redundancy.
Touchscreens are provided for operators to control and monitor the system and conventional pushbuttons are fitted for the push to operate button and other critical functions such as shear rams (where required) to offer a further level of redundancy. Data handoffs to drilling systems and remote control of automated filling sequences can be made available at the users' request.

<
click here
to go back to Monitor Systems Engineering Homepage