Talkback & PA/GA Systems
Monitor Systems - Trusted Provider of Talkback Systems and PA/GA Solutions for Offshore Installations
As a leading company in the field, we specialize in delivering reliable and innovative communication solutions tailored to meet the unique requirements of the drilling industry.

Top-Quality Talkback Systems and PA/GA Solutions
At Monitor Systems, we provide high-quality Talkback Systems (Intercoms) and PA/GA (Public Address/General Alarm) solutions specifically designed for offshore platforms and drilling rigs. With years of experience and a deep understanding of the challenges faced by the drilling sector, we have become the go-to partner for many offshore operators.
Our expertise lies in supplying advanced and dependable systems that ensure clear and effective communication across offshore platforms, enhancing safety, productivity, and efficiency from accomodation to the drill floor.
Enhancing Communication and Safety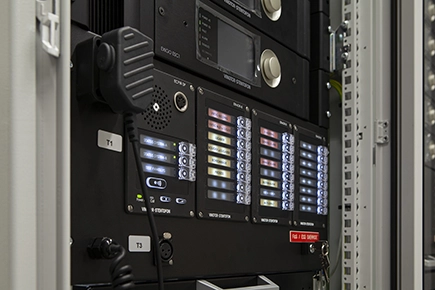 Our cutting-edge Talkback Systems enable clear and secure communication between different teams, control rooms, and key personnel in safe or hazardous areas, facilitating quick decision-making and efficient coordination. We understand the importance of reliable communication in offshore operations, and our Intercoms are built with robust technology to meet those needs.
Our PA/GA systems provide seamless communication throughout the platform, delivering critical information promptly and effectively. Whether it's emergency announcements, routine communication, or broadcasting important updates, our solutions are designed to enhance communication flow and keep everyone informed in any situation.
Commitment to Excellence and Customer Satisfaction
At Monitor Systems, we take pride in our commitment to excellence and customer satisfaction. Our team of experts works closely with clients to understand their specific needs, ensuring that our Talkback Systems and PA/GA solutions are tailored to their requirements. With in-depth knowledge of the drilling industry, we deliver reliable, robust, and compliant solutions that meet the highest standards.
Choose Monitor Systems as Your Trusted Partner
When it comes to Talkback Systems and PA/GA solutions for offshore platforms and drilling rigs, choose Monitor Systems as your trusted partner. Contact us today to discuss your requirements and discover how our cutting-edge solutions can enhance communication and safety in your offshore operations.
<
click here
to go back to Monitor Systems Engineering Homepage