Quality, Health, Safety & Environment: QHSE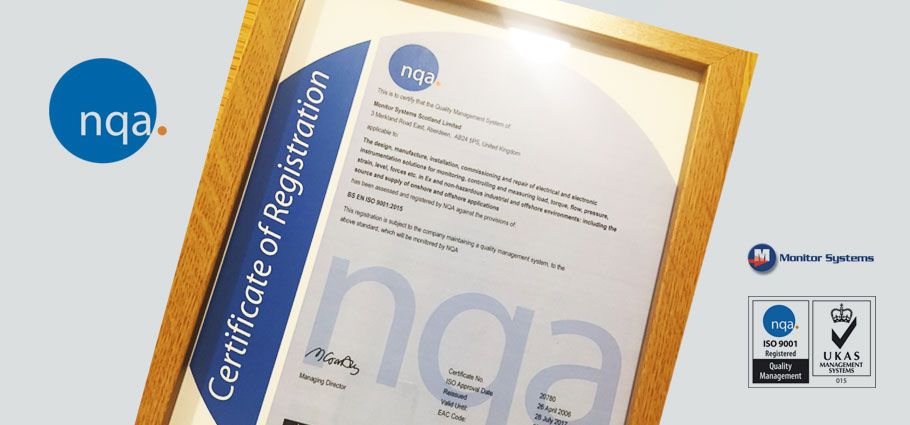 Monitor Systems are committed to an ongoing quality program with inspection of procedures. We are certified to BS EN ISO 9001 : 2015 and First Point.
Monitor Systems uses a quality management system that covers the total activities and processes required to meet our customers' expectations for products and service. Monitor Systems also places the highest priority on safety and has adopted a set of safety principles which underpin all activities carried out by Monitor Systems employees and contractors.
Monitor Systems operates a formal Integrated Management System which has clearly defined policies with regards to Quality. The management system is fully certified to ISO 9001:2015 for Quality. This certification is provided and maintained by NQA Quality Assurance through periodic audits and re-certification cycle.
BS EN ISO 9001: Monitor Systems are an ISO 9001 certified company, with an outstanding reputation for the quality of our work, project management and on-time deliveries. As we control all of our key processes in-house, we are able to offer a level of quality assurance and reliable deliveries that our competition simply cannot. Aside from meeting industry benchmarks for quality, at Monitor Systems quality has culture embedded in our staff, who take immense pride in the quality of what we produce. Our personnel have had exposure to many facets of the Industry, we understand the implications of quality issues in the oil and gas environment.
Monitor Systems place emphasis on the health, safety and welfare of all our employees, contractors and visitors. We conduct our activities in accordance with the Health and Safety at Work Act and in alignment with other relevant statutory provisions and approved codes of practice. We are responsible to protect the environment and build this into our policies and processes.
The company sees the effective implementation of QHSE as essential to the future success of our company. QHSE is treated as a line management responsibility and improvement ideas are actively sought, reviewed and supported by management with the aim of promoting seamless delivery of services via tried and tested management systems and procedures.
Having achieved ISO9000 accreditation in the late 90's, Monitor Systems has employed considerable resources and efforts from staff at all levels over the subsequent years to progress from those original procedures and processes to a fully electronic process-based systems which fully reflects the way the company operates.
Read our page on INDUSTRY COMPLIANCE.