Group News: 2012 and Archives
<
click here
to go back to Group News Index: 2012 and Archives
Anchor Windlass Monitoring System
Design, Manufacture, FAT and Commissioning: Borgsten Dolphin Demi-Submersible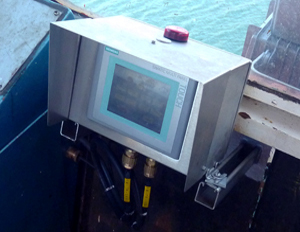 The Anchor Winch Monitoring system includes HMI displays in the Control Room and Pilot House, along with eight Bulk Tank guided Wave Radar Sensors.
Having the Anchor Winch Monitoring system installed on the rig is a big benefit to Dolphin Drilling. Reliable state-of-the-art monitoring technology to control the bulk material safely and in a controlled manner for the Bulk Tank System is a step forward in the right direction for rig efficiency and safety. The same display units for the system monitors the tension, chain length and pay out speed of all twelve (12) anchor winches.
A highly trained in-house engineer from Monitor Systems was invited to survey the rig, compile a report and provide all the consumables that would be required to furnish the project.
During the Rig Survey the Engineer suggested to the OIM that a display panel would be required in the Sack Store to display Bulk Tank Levels to the Control Panel Operator. The current design was based on individual Panel Meters displaying the Tank Levels. A HMI display was considered as it would look better and be capable of providing more information to the user.
Dolphin Drilling were then provided with detailed drawings and plans to help them with the system and for easy use onboard . Monitor Systems engineers have a close working relationship with Siemens, who helped provide the technical knowledge of the system including the 15" HMI touch screen monitors.
After initial project survey and reporting, Monitor Systems were awarded the contract in the first quarter of 2012 based on having a 'can do approach' to the project including key project management parameters. The project included the FAT and commissioning of the system once installed.