Group News: August 2015
Solar Powered Light Station for GSF Galaxy III and GSF Monarch
Industry compliant system for Cold Stacked Rigs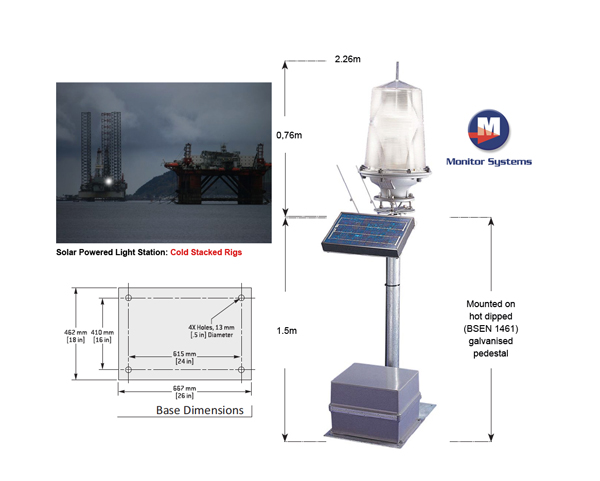 Monitor Systems were asked to provide the GSF Galaxy III and GSF Monarch Jack-up Rigs with a Solar Powered Light Station as part of its 'cold stacking' procedure.
Typically, a variety of steps can be taken to protect any 'cold stacked' rigs including the installation of monitoring systems that communicate rig status and critical systems information to locations onshore. Monitor Systems also provide a comprehensive marking and monitoring system that includes GPS Position Monitoring, Intruder Monitoring, Fire and Bilge Alarm Monitoring, Anchor Winch Tension Monitoring, Solar Power Supply and an Automatic Identification System.
Monitor System's provided the rig owners with a state-of-the-art solar system. The 'MSSL Solar Powered Light Station' comprises a main solar powered lantern with white LED flasher producing >1400cd, set to Morse 'U' 15 seconds and includes an internal photocell. The industry compliant system is mounted on a hot dipped (BSEN 1461) galvanised pedestal. The light station includes an 80W solar module set at 30 degrees and in addition, a 200AH (at 12VDC) battery bank housed in the (base) fiberglass (UV protected) battery box was supplied to provide a minimum of 96 hours power back-up for the marine light. The battery box, solar module and lantern were preassembled onto a skid for easy 'on-location' installation.