Group News: April 2015
ATEX Compliant Monitoring Systems
Certified Anti Collision System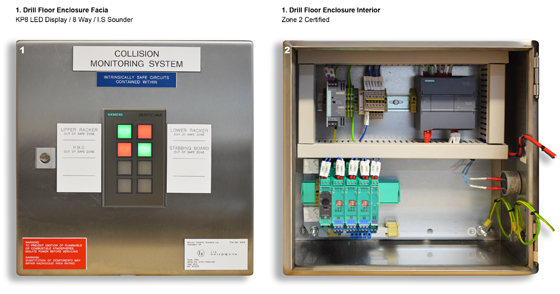 < left: 1. Drill Floor Enclosure Facia with Seimens KP8 LED Display / 8 Way / I.S Sounder / 2. Enclosure Interior, Zone 2 Certified.
ATEX product certification: It involves a detailed process of examination, testing and assessment of equipment intended for use in potentially hazardous areas, with the end result being the issue of an ATEX certificate and report, confirming and demonstrating that the product is safe to use (within certain parameters) within potentially explosive atmospheres.
Certified Umbilical Reeler Load Monitoring System
Certified Anti Collision System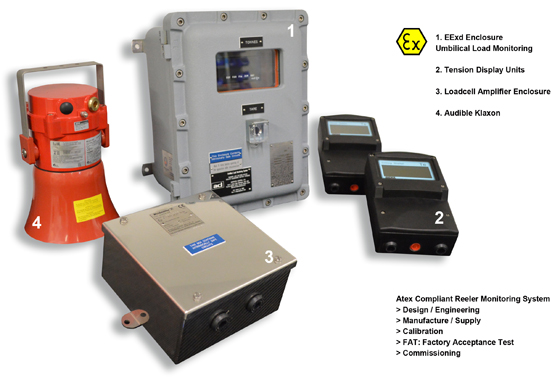 < left: 1. EExd Enclosure / Umbilical Load Monitoring / 2. Tension Display Units / 3. Loadcell Amplifier Enclosure / 4. Audible Klaxon:
Referencing the appropriate legislative and regulatory standards Monitor Systems only offers products which meet the requirements of ATEX Directive Equipment and Protective Systems intended for use in potentially explosive atmospheres.
For more information on product and manufacturing 'compliance' please go to page: (Monitor Systems designs, builds, installs and commissions monitoring systems and instrumentation in compliance with key industry standards).