Group News: April 2015
Call of Duty: Byford Dolphin SPS
Helping our customers solve problems on-time and within-budget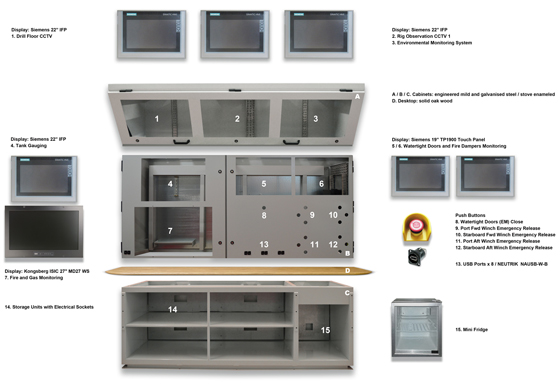 Scope of Supply: Design / FAT / Installation & Commissioning of Toolpushers Control Console.
1: Emergency Ballast Panel
2: Fire Damper Monitoring System
3: Water Tight Door System
4: Anchor Winch Emergency Release
5: Tool Pushers Emergency Control Console
< Left: Design (assembly view) of Toolpushers Emergency Control Centre.
Toolpushers Emergency Control Centre: A new console was designed, manufactured, assembled and installed in the Toolpushers office. The console incorporated Heli-Deck Monitoring, Rig CCTV, Watertight Door Monitoring, Fire Damper Monitoring, Tank Gauging and Fire and Gas Monitoring. The new control console allows for operation and visualisation from one central point on the rig.
Harland and Wolff has been awarded the contract for the dry docking and renewal / (SPS) Special Periodic Survey of the Byford Dolphin Semi-submersible rig by Aberdeen based Dolphin Drilling.
Last in Belfast during 2004/2005, the Aker-H3 design semi-submersible drilling rig will have several major modifications and upgrades. The project will also include numerous renewal and maintenance scopes of work such as repairs, system renewals and refurbishments.
The Byford Dolphin is a semi-submersible rig known very well to Monitor Systems. Prior to the current SPS scope of work, Monitor Systems carried out various design and installation projects on the rig. Bespoke systems designed and delivered over the years include Anchor Winch Monitoring, Bulk Tank Monitoring, Draft Level Monitoring, Emergency Ballast, Helideck & Environmental Monitoring, Leak Detection, Fire Damper Monitoring.
Our SPS scope of work contracted by Dolphin Drilling included the design, manufacture, installation and commissioning of many integrated instrumentation monitoring and control systems. In general, the project involved the design and replacement of the existing Emergency Ballast Control System, the upgrade and expansion of the Fire Damper Monitoring System, Water Tight Door Control Monitoring System, Anchor Winch Emergency Release system and a new Toolpushers Emergency Centre.
Brian Sinclair, Managing Director at Monitor Systems commented, ... "The project had enough scope for Monitor Systems to demonstrate its combined design, engineering, project management, manufacturing and installation capabilities.
We are pleased to build on our longterm relationship with Dolphin Drilling following the work undertaken for the Borgsten Dolphin last year and we are delighted to be part of the Special Periodic Survey that will deliver the Byford back into service in the next few months."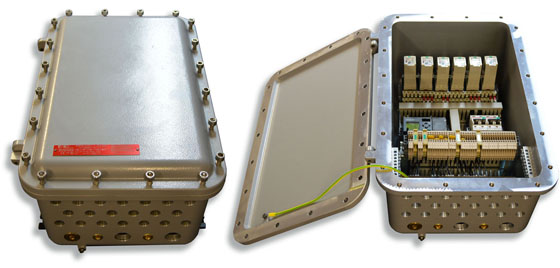 Emergency Ballast Control Panel: The new Emergency Ballast Control System was given its own ET200S I/O rack, making the ESD segregation simpler; simplifying any future maintenance and fault finding. The new panel and system was designed, engineered, manufactured, tested and installed on the Byford Dolphin. A shared I/O enclosure was used, housing the Watertight Door and Fire Damper monitoring I/O in the SCR Room.
Water Tight Door Monitoring: A replacement panel and system was designed, engineered, manufactured, tested and installed in the same location as the existing panel. A Siemens PLC along with I/O Rack was utilised to control the watertight doors. A new UPS was provided giving a minimum autonomy of 30 minutes.
Anchor Winch Emergency Release: The scope of work included four new Pusnes Winch Exd Enclosures and control panels, one Zone 1 pilot house Control Panel, four Zone 1 Bratvaag Winch Control Panels and four Zone 2 Battery Enclosures. All design and assembly was undertaken in-house, supplied to the Byford with full engineering support documantation including FAT, Atex documemnt, commissioning procedures and work pack.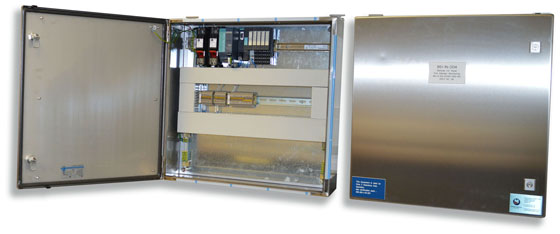 Fire Damper Monitoring: Two Zone 3 I/O panels were designed, manufactured, tested and installed on the rig, monitoring up to 24 additional fire dampers per panel. A fourth allowance for I/O was built into the new Process Enclosure. An allowance was made for 32 inputs, 16 Fire Dampers. The SCADA Software on the Toolpushers, Control Room and Pilot HMI's were upgraded to include the additional dampers being monitored.