Group News: April 2015
Drillship BOP Monitoring System
Drill Floor Panel, Toolpushers Panel and Process Enclosure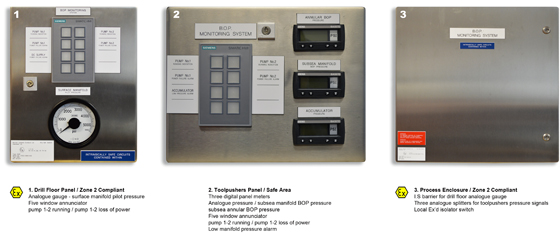 Above: Drill Floor Panel - Zone 2 Compliant / 2. Toolpushers Panel - Safe Zone / 3. Process Enclosure - Zone 2 Compliant
On behalf of Northern Offshore Ltd, Monitor Systems were asked to modify the existing BOP Control System for the Energy Searcher Drillship in Nigeria, West Africa, in order to meet the requirements of API 16D.
The BOP Monitoring System was made up of two indication panels and one processing enclosure. One of the indication panels was for the Toolpushers office and the second for the Drill Floor. The processing enclosure was located inside the Accumulator room.
The Monitoring System was manufactured in-house at our Aberdeen facility with the highest quality grade structural materials, componenets, ruggedised industrial electronics and highly secure software/firmware that provide reliable and robust performance.
The finished system underwent a full FAT making sure that it was fully operational on delivery to Northern Offshore.
Drill Floor Panel: The Driller's Control Panel was designed for its hazardous Zone 2 Compliant drill floor environment. The push button Siemens HMI observed pump running, pump loss of power and features a (DC) power supply failure alarm. An analogue gauge was also built into the panel, vital for monitoring the surface pilot pressure of the BOP.
Toolpushers Panel: The Toolpusher's Control Panel was designed for its non-hazardous area office environment.
The push button Siemens HMI panel on the Toolpushers panel observes pump running, pump loss of power and accumulator low manifold pressure, with an alarm activated when pressure drops below 700psi.
Processing Enclosure: Like the Driller's Control Panel, the Process Enclosure was also designed for its hazardous (Zone 2 Compliant) environment within the Accumulator room.
Allan McGillivray, General Manager at Monitor Systems commented, "Designing, Manufacturing and Testing instrumentation and monitoring systems that are hazardous area compliant is a specialist area of business for Monitor Systems. We have estimated that we have produced more than 70 compliant systems currently working on rigs, platforms and drillships throughout the world. Our years of proven experience in this field means that our engineers are well rehearsed in hazardous area legislation."