Group News: April 2015
Crown Block Monitoring System
Monitoring and alarm systems for the Ocean Patriot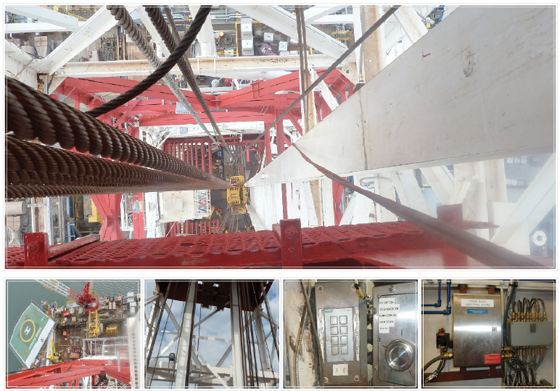 Monitor Systems were asked by Diamond Offshore Drilling to design, build and install a crown block proximity monitoring / alarm system with drillers alarm panel on board the Ocean Patriot Semi-submersible rig berthed in Hartlepool, North East England.
The crown block (the top stationary section of the block and tackle rig derrick) that contains a set of pulleys through which the drill line (wire rope) is threaded, requires constant monitoring so that the length of 'vertical operating travel' whilst drilling is safely controlled.
Monitor Systems built a monitoring and alarm system allowing the operator to see any unsafe levels of vertical movement of the travelling block. An indication panel was designed, manufactured and installed in the drillers cabin for clear observation and control.
Sensors were mounted in three locations on the rig derrick, 5ft, 10ft and 20ft from the crown block. The system was built with an audible and visual alarm, showing red, amber and yellow lights respectively.
Due to the hazardous area in which the monitoring system would function, it was a prerequisite that the system design and manufacture was compliant with Zone 2 legislation.
Darren Anderson, Technical Manager at Monitor Systems commented, ... "Repair, upgrade and bespoke design of instrumentation and monitoring systems is our core strength and we are delighted to work again on systems for the Ocean Patriot. We have recently completed on a talk back digital intercom system, enabling the Ocean Patriot to retain a high level of open channel communications."