Group News: 2019
Mud Mixing Control System for Jack-up Rig
Monitor Systems Engineering were asked to design and supply a new mud mixing control system for an operator's Jack-up rig.  The new system would monitor and control all 36 valves ranging in size from 6" to 12".  The new system design featured the replacement of the existing manual valves with pneumatically actuated units, eliminated the need for manual gearboxes, reach rods and stem extensions.  Integral to the design was the installation of a new PLC & HMI based control system.
System Design - Technical Overview
The  control system was based around the Siemens S7-1200 PLC and ET 200SP I/O Rack for the connection of all field I/O. All components were mounted in a bespoke built processing enclosure and installed in the rig's mud pump room. The process enclosure interfaces with the HMIs via a high speed Profinet network.  A Siemens 19" touchscreen comfort panel HMI was mounted in the mud mixing office suspended from an adjustable bracket for operator efficiency and control.  A Zone 1- 24" HMI was also installed in the rig's mud pits room.  All new valves were fitted with double acting pneumatic quarter turn actuators complete with dual coil 5/2 solenoid valves and feedback switch-box's.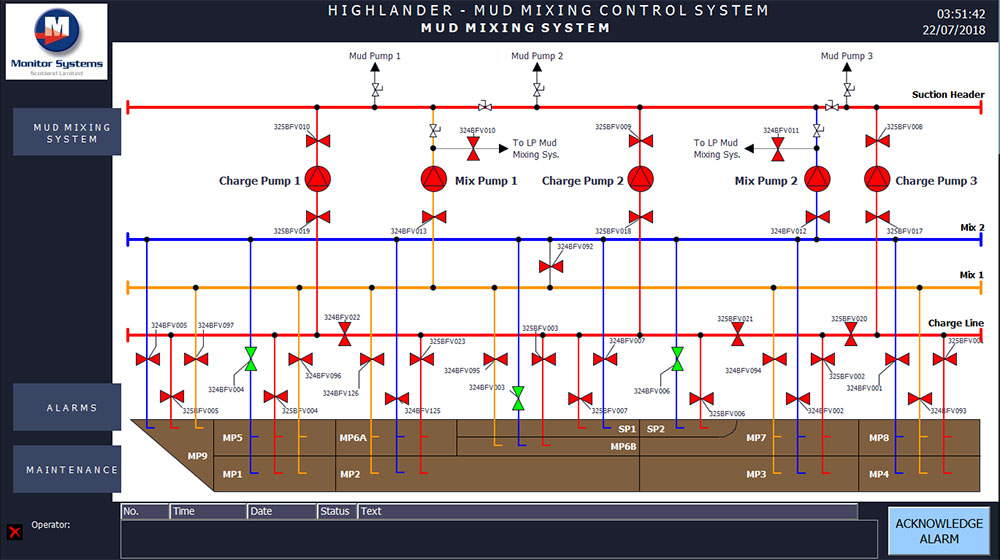 Brian Sinclair, Managing Director commented … "Changing the mud mixing manual system for a new automated system has increased efficiency for the operator, and provided a less labour intensive mud mixing procedure.  The new system has also shown to reduce the time and manpower required during mud mixing operations."
Commissioning
Once installed on the rig, Monitor Systems were asked to fully commission the system, making sure that everything was operational as intended.
---