Group News: December 2013
Winch Monitoring System / Indonesia
GSF Constellation 1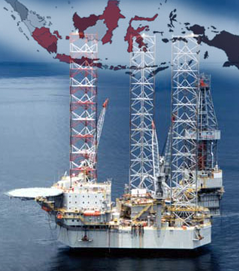 Our standard winch monitoring system includes a calibrated running line tensiometer with both force and payout sensors and a LCI-90i display for each winch. The LCI-90i display is mounted on the winch control panel providing real time monitoring to the operator. A RL-20 Running Line Tensiometer (RLT) is mounted on the winch rope to measure line tension, speed and length. The RLT is connected to the LCI-90i display via a single cable, this cable is supplied with Marine Grade connectors for connection to the RLT. The RLT can therefore by quickly and very easily disconnected and removed for storage when not in use.
Monitor Systems in conjunction with Measurement Technology NW provided a winch monitoring system for the Transocean high specification Jack-up rig GSF Constellation 1 in Indonesia. The system included running line tensiometers, local displays, interconnect cabling and an output to the rigs Vessel Management System (VMS).
Local Displays: WinchDAC's graphical interface shows at a glance winch speed, tension, and payout readings as well as alarm status, and all charts feature user-set parameter scaling and real time graphical display. WinchDAC charts feature user-set scaling and an intuitive display of any or all winch parameters. The WinchDAC electroluminescent 320x240 high resolution display is 160 degree readable in all conditions.

Both visual and audible alarms are available. Visual alarms use winch icon colour bar changes to indicate high or low alarm conditions. The vertical bar graphs will also change colour indicative of the alarm condition.
Alarm values can be easily adjusted at the local LCI-90i display or back at the WinchDAC PC computer.
Interface: With the LCI-90i interface, all programming functions required to set or change displayed units, (1. alarm limits, 2. silence external alarms and 3. reset payout readings) are available through the five bottom front panel push buttons.
Even diagnostic information (raw Ma signals and counts) are available in this manner to the winch operator.
Line Tensiometers: the articulated arm provided a means of securing the tensiometer from moving forward and backward on the wire rope. It will also help buffer the fall of the tensiometer under slack conditions.