Group News: April 2014
Focus on Safety Monitoring
Bilge System Upgrade

Regulations for bilge water, wastewater generated from machine space, require the separator and monitor to be certified, showing less than 15 ppm oil content in water.
Semi-submersible rigs have columns & pontoons of sufficient buoyancy to cause the structure to float and sufficient weight to keep the structure upright. Through control this can be ballasted up or down by altering the amount of flooding in buoyancy tanks; hence the system that makes this all possible is vitally important for the safe operation of the rig.
During an upgrade, offshore support vessels, drilling rigs, FPSOs, FSOs and production platforms are now subject to more stringent requirements for overboard discharge depending on vessel type, regional requirements, owner preference and internal company environmental policies.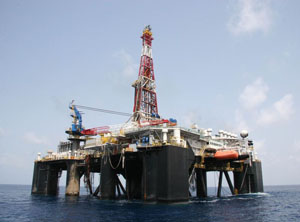 The Bilge System upgrade onboard the Sedco 702 semi-sub project seen Monitor Systems fit fail safe, 3 phase electric closed actuators to the bilge pot of the semi-submersible, replacing the existing reach rods.
The bilge pump system has to handle two situations, pumping out the normal accumulations of water, condensation and minor leakage, and pumping out a large influx of water in an emergency. In respect to safety, any rig upgrade will introduce the very best and certified operating system and components available to them.
As an additional safety option, Monitor Systems mounted new flood detection sensors in the bilge pots to provide alarm indication in the control room. An early indication of water in the void spaces will automatically open the new bilge valve and start the bilge pump.
The Bilge System upgrade project allowed Monitor Systems to exercise its expertise in Rig Survey, Project Management, Conceptual Design, QA & HS&E Management, Engineering and Management and ABS Certification.