Group News: October 2016
<
click here
to go back to Group News Index: October 2016
Anchor Winch Monitoring System
Monitor Systems were approached by Paragon Offshore to design, install and commission a new Anchor Winch Monitoring System for the Paragon MSS1 Semi-submersible in Invergordon.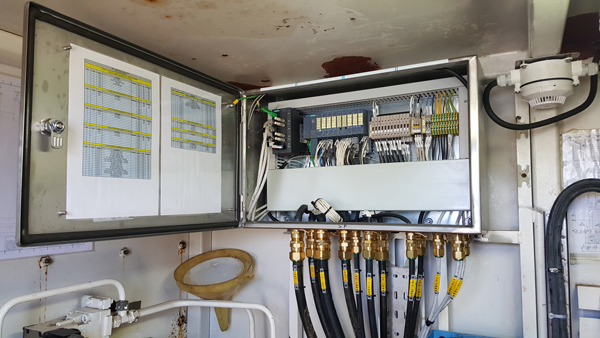 The new Anchor Winch Monitoring System monitors the tension, chain length and pay-out speed of all twelve winches on-board the rig. The tension on the winches is derived from existing strain gauge load cells fitted on the windlass.
The chain length is measured via the existing proximity sensors picking up targets, with the winch speed being derived from one of the proximity sensors. Each HMI enclosure has a combined audible / visual alarm that will activate when any alarms are generated.
The new system is based on the Siemens S7-1500 series PLC. The system utilises a Fibre Profinet network for communicating between the remote I/O modules at the anchor winches and the central PLC and HMI located in the Bridge.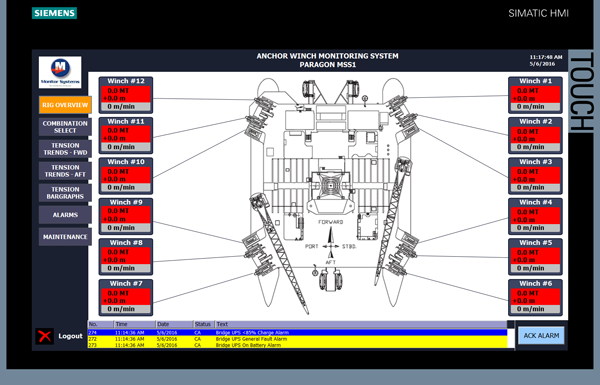 The system design includes a 19 inch widescreen touch HMI installed in the Bridge. This HMI displays all anchor winch information and trending. Each winch house on-board the Paragon Semi-submersible was installed with three 7 inch HMI's housed in a custom built stainless steel enclosure, one HMI per winch. Each HMI will allow the rig operator to view all chain data and compare across all twelve winches on-board the rig.
Our Anchor Winch Monitoring system is designed to graphically display the tensions, speeds, chain lengths and provide alarm functions and trending (Bridge HMI only) of the anchor tensions.
The project included the design, manufacture, FAT, installation and commissioning of the system.
The Paragon MSS1 is one of many rigs that Monitor Systems has successfully installed their Anchor Winch Monitoring System on. We have supported rigs such as the Paul B Lloyd, John Shaw, Wilhunter, Borgsten, Byford and Magellan to name a few.