Group News: 2017
Tank Terminal Monitoring and Control System
Monitor Systems provided a fully automated control system for a state of the art Tank Terminal. Monitor Systems worked closely with thier client and their main contractors to engineer a system that would primarily provide a safe environment for the storage, transfer, decanting and weighing of product, while at the same time ensuring an efficient operational site that could cope with the demands exacted upon it operating in the tough O&G market.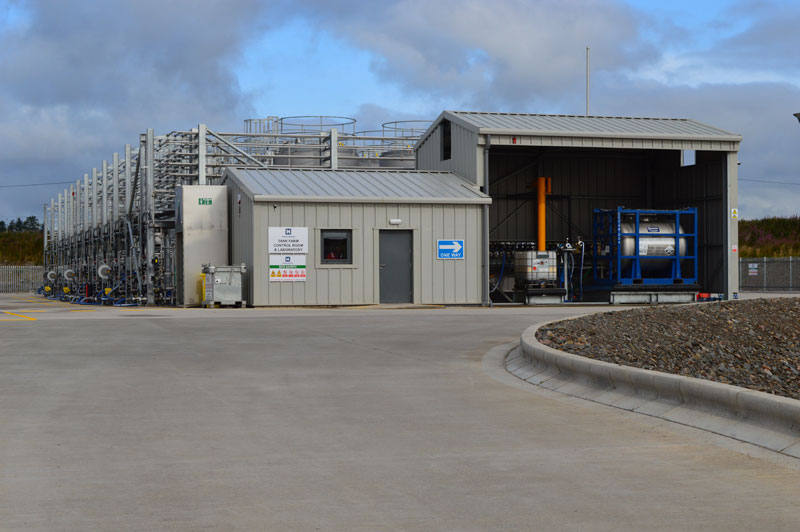 The fully automated control system allows the user to operate the entire Tank Terminal, from carrying out tank transfers, tank filling and recirculation processes, from the safety and comfort of the Control Room, whilst providing full visualisation of the operation.
Because of the chemicals being stored on site and the critical process that were to be carried out, ATEX certified systems were required along with a Safety Instrumented System (SIS) comprising of multiple Safety Instrumented Functions (SIF's). The safety systems implemented were key in ensuring that should it be required the system would be put into a 'Safe State' to avoid adverse Safety, Health and Environmental consequences.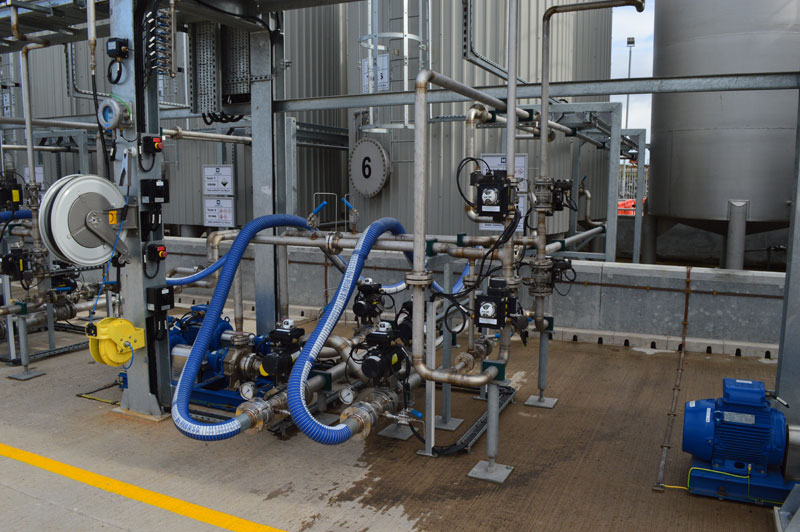 Monitor Systems provided the PLC control system that would control the plant, along with the SCADA software package and IPC's that would be the operator's main portal for operation. The SCADA system was designed and programmed so that all processes were automated as far as practically possible so as to avoid the possibility of operator error leading unsafe conditions. The intuitive user friendly SCADA package provides the operator with a simple and easy to use system that ensures smooth operation of the site on a daily basis.
Also provided was a custom built Motor Control Centre to drive the entire sites motor/pumps sets using the latest Siemens VFD drives, each with SIL2 shutdown capabilities. The drives allowed for fine speed control of transfer processes to ensure compliance with industry regulations regarding chemical transfers.
All tank farm instrumentation including Radar Tank Level, Level Switches, Flow Switches, Temperature Sensors, SIL instruments, Coriolis and MAG flowmeters were specified by Monitor Systems and installed throughout the site, all adding to the client's requirement for a safe site.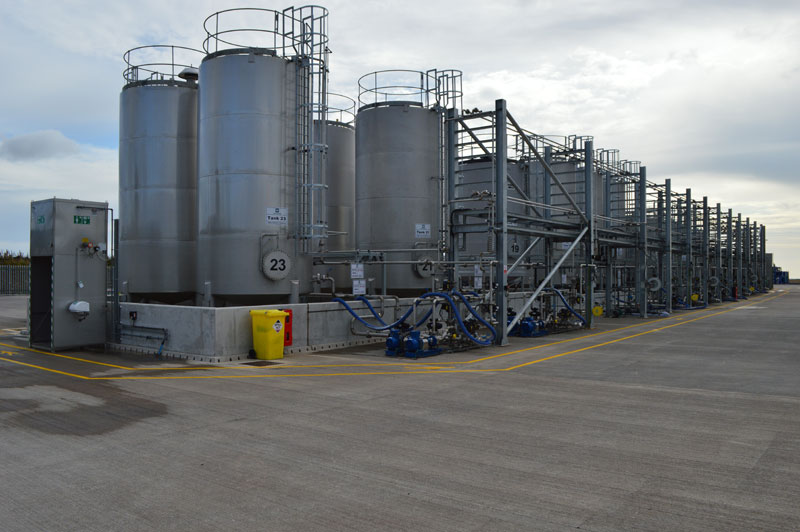 Other items included in Monitor Systems scope of supply were the provision of static earth monitor units to allow for safe static free transfers to be carried out, plant and waste water control panels, E-STOPS units, IBC & OST approved weight - measurement scales, and a weight - measurement approved mixing tank weighting system.
Installation of the system required detailed planning and a close working relationship between multiple contractors due to the site being a new development. With our engineers and installation team working in harmony with all other site contractors, the site was built and commissioned ready to receive chemicals in time for the start of a prestigious contract award.